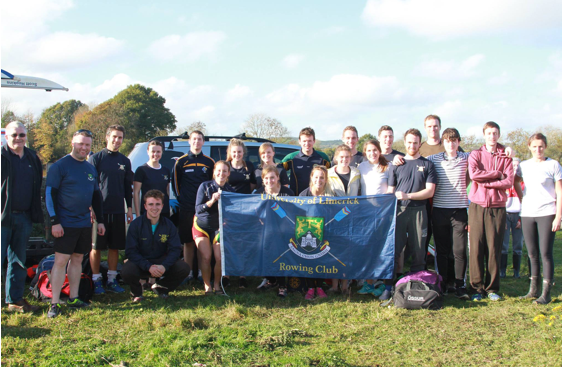 By Patrick Corley
Last month (Saturday 31/10/15) marked the Castleconnell Head of the River race and the first competition of the Autumn semester for the UL Rowing club and as a newly elected UL Rowing Club Public Relations Officer and rowing novice I thought I would share my thoughts on last week's outing. Castleconnell Head is a local race held on a nice stretch of the Shannon river. The race is 3.2km but you have to row up to the start and then race back so if you are in a couple of races you cover a lot of distance over the day.
It was an early start for all those who came to take part in the competition and for those who came to watch and support their fellow rowers. The weather couldn't have been better and we were well aware of this in advance thanks to our in-house weatherman, Ger Barlow who notified us of the intense sunshine, calm waters and serious craic that would greet us at Castleconnell. I, myself took part in two races in novice men's 8+'s and got my first real taste of competitive rowing.
As novices, fresh in the boat (excuse the pun) our dedication and training since the start of the season really showed on the day and though we didn't take first place, we performed well and I think that I can speak for the rest of the novices and experienced members in saying that the day (and the night out later on) was thoroughly enjoyable and we are looking forward for what's yet to come! The women's novice crews also got their first taste of racing on the day, they had two novice 8+'s and two coxed quads racing on the day, the intermediate men and women's crew were both beaten to 1st place by local rivals and hosts Castleconnell Boat Club. So even though there were no wins on the day it was a great first regatta of the season and all crew are hungry to win now as training steps up for the next event in a couple of weeks here at UL – Provincial Indoor Rowing Championships.
Having a role such as the Public Relations Officer in the club has been great and has given me insight into how clubs are organized and run. I believe the rowing club has been nothing but beneficial to me in many aspects and I would strongly recommend that you give the ULRC a try!