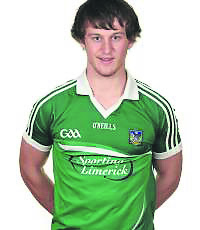 By Lina Ryan
Limerick were crowned All-Ireland under 21 champions in Thurles on 12th September this year and for UL's Tom Morrissey, it was a night he will never forget. According to Tom, the supporters were ready to invade the pitch from the 57th minute and did just that when the final whistle blew. He said: "It was unbelievable."
No one really knew how the U-21 championship was going to go for Limerick in 2015 when the squad was picked and training began in mid-January. Throughout the year, Limerick operated below the radar. Their first meeting was against Tipperary in the Gaelic Grounds where they emerged with a two point victory with Tom contributing two points, the margin of victory, on the night.
Tom explained: "We got a bit of a start on them (Tipperary) but we had a man sent off with fifteen minutes to go. We got a goal that gave us a five point cushion again – everything seemed to go our way that night."
Past challenges such as the Hawkeye incident in the 2013 minor semi-final and the loss to Kilkenny in the All Ireland Final of 2014, has strengthened the resolve of this group of players, a fact Tom is very proud of. "We seem to learn from our past experiences and every time we are hit with a challenge we seem to man up and face them – we showed good character."
John Kiely managed the U-21s who were a "tricky age group", according to Tom because players have a lot of commitments. Both he and Cian Lynch were with the senior panel, six or seven of the panel were involved with the Limerick intermediates and Kevin O Brien was with the UL Fitzgibbon Cup side while many others were involved with other colleges also.
Good training practices and player management by John Kiely and team trainer Ross Corbett was a major factor. Players were not overloaded and John Kiely and Ross Corbett had the squad "primed for championship each time and he deserves credit for the way he had us", according to Tom.
The Ahane man, with a mischievous grin on his face said "coming up to the Munster final all the hype was on Clare there wasn't much talk about us they were the ones going for four in a row" The fact that the game was in Cusack Park, the last game before its re-development, Morrissey felt put additional pressure on Clare.
"A tricky spell" occurred just before half-time which according to Tom was a "common occurrence" during the year for Limerick, but they came out after half time took control and never looked back- Munster in the bag. The leaders according to the full forward were the three 21 year-olds, centre back Gearoid Hegarty, David Byrne and Barry O Connor the captain and vice-captain respectively. As a half back line, they were immense all year and they "showed huge leadership and they are the ones you would look up to as well", he said.
Limerick continued their low key preparations and easily disposed of Galway in the semi-final. Then attention turned to Wexford in Semple Stadium for the final. One of the qualities associated with Limerick hurling teams is work rate and this side was no different. Tom believes that Limerick had a harder road to the final than Wexford and the fact that they had beaten Tipperary "the best team in it" according to him, gave them an advantage.
The work rate was epitomised by the performance of the backs keeping "them (Wexford) scoreless for the first twenty minutes which is in hurling unheard of to be fair" The win Tom attributed to the work rate all over the field and in the final "the intensity, work rate and honesty within the group and in every game" shone.
Not content with just winning an U-21 medal, Tom sees this win as a stepping-stone for the future of Limerick at senior level. "This is a development process. In Limerick you want to play senior, you want to win Munster's and Liam McCarthy's – we have been waiting a long time in Limerick so hopefully this team will produce a lot of senior players for Limerick in the future."
Tom is also involved with Ahane where he plays alongside his two brothers Dan and Paddy. He admits there is rivalry especially between him and his twin brother Paddy who was also a member of the victorious U-21 squad.