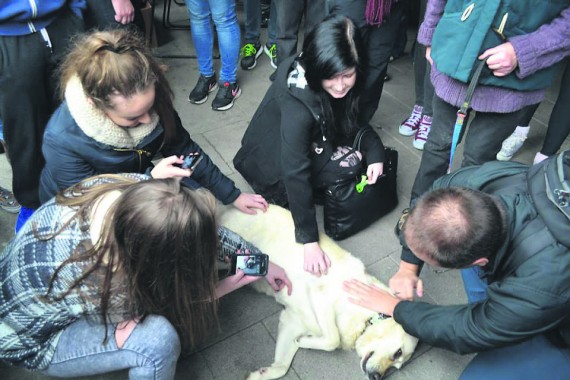 By Seamus Toomey
The masses gathered, slowly a few at a time congregating outside the Students' Union. You could feel the difference, there was anticipation in the air, and you could see the questions resting on the tips of everyone's tongues. Confused I looked around at the gathering crowd wondering what was about to happen.
After ten minutes there was a noticeable collective of people – after twenty they had packed out the SU and finally at 12pm they had swarmed the courtyard, amassing a staggering following. One loud bellow set them in motion: "PUPPIES!"
SoUL Fest had started off with a genuine crowd excited and ready for puppies and chocolate, UL's Animal Welfare Society's event. You could hear people beforehand asking frantically where the puppies were going to be. So when the dogs showed up naturally you all crowded around the little furry friends, even scaring some of the organisers with your numbers.
A small booth was set up with information about Limerick Animal Welfare (LAW), the group who brought the dogs, and a bucket was passed around for charity for the organisation.  Wolfie made an appearance and even stole some of the attention getting his belly rubbed by some of the onlookers. People were in puppy pandemonium, petting, playing and pandering over the three dogs that arrived first (and Wolfie of course).
The dogs were lapping up the attention with easily one hundred students fighting their way through the busy courtyard just to see them. When pugs were brought in I admittedly ran from my computer in the C&S office and sprinted over to the little smushed faced dogs that my family hold a fondness for.
The phone was out and there were loads of pictures sent to my mom and sister, and others were doing the same.  Needless to say by the end of the day LAW had raised quite a sum of money and the dogs were exhausted. They had their work cut out for them – there were nine dogs and a shocking amount of students for them to entertain. They seemed happy to be getting into their car and going home for a well-deserved break.
Limerick Animal Welfare showed their gratitude saying: "The students collected €344.45 for us and brought in loads of food, treats, toys, bowls and bedding. The Animal Welfare Society also presented us with a cheque for €150 which they raised at a pub quiz.
"Thank you so much from all the animals and staff at the sanctuary – it was a great effort and very much appreciated. Special thanks to Maria McGrath for organising everything."