Yet again, Marvel Studios knocks it out of the park by introducing a new member to their ever-growing pantheon of heroes; this time with the first black-led superhero movie of the MCU, Black Panther.
Spring boarding off his impressive debut in Civil War, Chadwick Boseman barely misses a beat as T'Challa, the new king of Wakanda. Dignified and passionate, he is equally as compelling as a hero and a king. But when the sins of the past catch up to him, he is forced to examine his worldview and Wakanda's place on the global stage.
Boseman is aided by a supporting cast that threatens to steal the movie out from under him, such as Oyeke (played by Danai Gurira) –  T'Challa's chief bodyguard who provides many of the movies' best action scenes.
It's also hard to forget Shuri, played to perfection by Letitia Wright. She serves as Wakanda's chief scientist and the comedic highlight of the movie.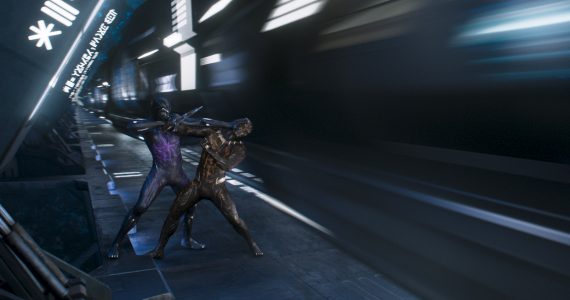 Another high point of the movie is its antagonist: Erik Killmonger, played with surprising charm and humour by Michael B. Jordan. Killmonger is one of Marvel's best villains since Loki, (which, unfortunately isn't saying much) a cold-blooded killer whose viewpoint makes an uncomfortable amount of sense. He takes issue with Wakanda's policy grown of isolationism and having grown up in the United States, he resents the utopia that the Wakandans have enjoyed for centuries.
Engaging characters aside, arguably the movies' greatest triumph is its depiction of the fictional state of Wakanda, a secret technological superpower hidden in the heart of Africa. A beautiful blend of craggy mountains and sleek, metal skyscrapers, Wakanda is a striking visual presence throughout the movie. Simply put, this place is more interesting than Asgard ever was.
Of course, the elephant in the room should be addressed: the frankly staggering amount of hype that preceded the movies' release. Many have called this Marvel's best, and a cultural phenomenon. This is a fine movie by any standard, but such statements are next to impossible to live up to so I'd advise you to go see this movie with slightly lowered expectations.