UL's search for Sigerson glory goes on as they suffered defeat to NUIG in the Sigerson Cup final held in IT Carlow on Wednesday evening.
Changes to both sides were made before the throw in with UL starting Jack Coyne and Eoghan McLaughlin who had just returned from injury, with NUIG starting Durcan instead of Tommy Gill.
Storm Dudley played its part in the game as a gale-force wind blew directly across the pitch from the stand side and heavy rain showers made the conditions heavy underfoot and difficult for ball handling.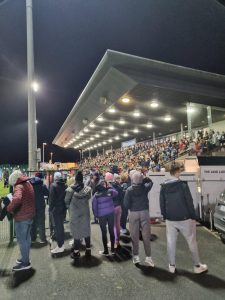 The first score went to NUIG after 6 minutes when Fionn McDonagh struck a shot from play. UL thought they had their first score after 15minutes when David Clifford's pass put through Sean Powter but despite the umpires raising the white flag referee David Gough overturned the decision saying it was a wide ball. This was UL's third wide of the half.
In the 16th minute the ball bobbled around the UL square before NUIG's Paul Kelly got control and fisted it over the bar for NUIG second point of the day.
A minute later the impressive Gavin Burke got NUIG's third point of the evening after a fine score from the left-hand side.
UL had to wait until the 18th minute to get off the mark when Paul Towey hit over a point from play. This was followed up by a second point in the 23rd minute by a David Clifford point from a free.
Getting into the game more, David Clifford overturned the ball in the NUIG half and with their goalkeeper Conor Carroll off his line he attempted to kick a ball over him and into the back of the net but was just short with the kick and Carroll made it back to clean it up.
Clifford got UL's third point with a free in the 28th minute which was to be the last score before half time to send the teams in level in what was a cagey first half.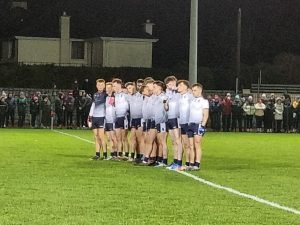 Heneghan was a half time substitute for Maurice Sheridan's NUIG, and it turned out to be a masterstroke. Within 38 seconds of the restart Heneghan scored which sent NUIG on a run of six unanswered points in the first 16 minutes of the second half. Heneghan got two points in succession with some great pieces of individual skills shown by the Roscommon County player.
A very well struck free off the ground from 45 metres out by NUIG captain Matthew Tierney sent NUIG three points up with just 5 minutes on the clock. Further points from Tomo Culhane from a free and play gave NUIG a five-point lead with UL yet to respond on the scoreboard.
NUIG upped the pace of the game in the second half in the first 15 minutes which UL struggled to keep up with.
However, after NUIG had their purple patch, UL finally found their stride. In the 15th minute a high ball kicked across the NUIG square by UL's Paul Towey to Dan Gray, who was deemed by referred David Gough to have been fouled by Rory Egan, resulted in a penalty. Rory Egan received the first yellow card of the game. David Clifford stepped up to the spot and struck a great penalty to the roof of the net not giving goalkeeper Carroll any chance.
The penalty brought UL back into the game leaving them just three points down.  Eoghan McLaughlin followed up with a point from distance to cut the deficit to two points.
This was quickly followed by a Donal O'Sullivan point leaving UL trailing by just one point with just over 10 minutes to go.
NUIG's Gavin Burke ended the UL purple spell with a well worked individual score to increase their lead by two points.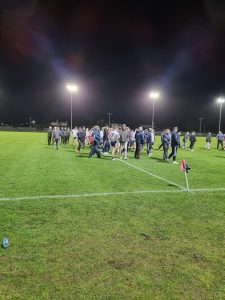 The last 10 minutes saw wides, short shots and shots off the post. In the 24th minute Eoghan McLaughlin won a free for UL which was slotted over the bar by Paul Walsh. This was the last score for UL as NUIG kicked on to get two further points from Fionn McDonagh and Tomo Culhane to seal victory for NUIG.
Speaking with NUIG's manager Maurice Sheridan after the match, he said, "We just would like to compliment the team as well. It's been good sports with Reuters the sound man and he's a friend of mine like we talk a bit and I know how he feels. Like we lost we lost final in 2018 so I've no doubt that they (UL) will be back… I am actually a student in UL myself at the moment. I am doing a Masters in Career Guidance and just a big shout out to all my classmates".
NUI Galway scorers: Cathal Heneghan 0-3, Tomo Culhane 0-3 (0-2f), Fionn McDonagh 0-2, Gavin Burke 0-2, Paul Kelly 0-1, Matthew Tierney 0-1 (0-1f).
UL scorers: David Clifford 1-2 (1-0 pen, 0-2f), Paul Towey 0-1, Eoghan McLauglin 0-1, Donal O'Sullivan 0-1, Paul Walsh 0-1.
NUI Galway: Conor Carroll; Eoghan Kelly, Neil Mulcahy, Colin Murray; Rory Egan, Sean Kelly, Gavin Durcan; Paul Kelly, Matthew Tierney; Fionn McDonagh, Nathan Mullen, Cathal Donoghue; Gavin Burke, Cathal Sweeney, Tomo Culhane.
Subs: Cathal Heneghan for Donoghue h/t, Tony Gill for Durcan 42, Ryan Monaghan for Mullen 64.
UL: Conor Flaherty; Ciaran Donnelly, Jack Coyne, Paul Maher; Gearoid O'Donovan, Sean Powter, Eoghan McLaughlin; Connell Dempsey, Daniel Walsh; Ciaran Downes, Emmet McMahon, Dan Gray; Paul Towey, David Clifford, Donal O'Sullivan.
Subs: Jack Glynn for Powter h/t, Paul Walsh for Dempsey 42, Oisin Looney for Downes 55, James McCarthy for Gray 58.
Referee: David Gough (Meath)