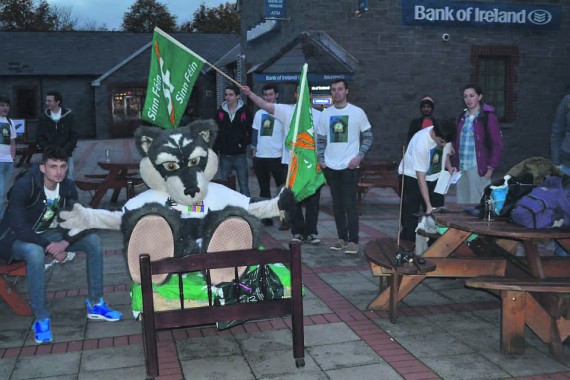 By Patrick Conneally
On the Wednesday of this year's SoUL Arts Fest, Sinn Féin UL gathered at the Pavilion for its event. This commenced with a bed push from the Pavilion to the SU Courtyard, handing out leaflets, talking to people and highlighting the current homeless crisis which has had a devastating effect on Limerick City.
There is a recorded 5,120 people on the housing list in Limerick. There are children whose welfare, education and quality of life is being drastically undermined as a result of this crisis.
Rents have dramatically increased, 8.2% across Limerick in the last year. The cost of a three-bed semi-detached house in Limerick has risen by 10.71%. A couple with two children on the Housing Assistance Payment (HAP) scheme will only be allocated €550 from the local authorities.
With the lack of social housing in Limerick, and with the rises in rent by private landlords it makes it impossible to rent a house as there are no houses in Limerick City for near this payment. The very significant issue of people in mortgage distress has added to the housing need in the city. This has created an even greater demand for housing in the private sector which, in addition to the demand for student accommodation in the University, has created further pressure on an already crowded market.
All of this has exacerbated an already upward pressure on rents. The lack of housing and increase in rents has come in part to an extra influx of over 400 students attending UL this year as well as people from the city having taken up residency in Castletroy due to the severe lack of housing in other parts of the city. The result has been that students have seen a sharp rise in rents across the Castletroy area, putting more pressure on students who are struggling to afford accommodation, as attending third level education is becoming more and more expensive every year, with factors such as the government's consecutive increase in college fees.
Our objective with the bed push was to highlight this horrific issue as a lot of people are not aware of the severity of the crisis as it is not an issue which affects a lot of Ireland as there is an abundant amount of empty houses in many parts of Ireland, particularly in rural areas.
Due to the lack of competition for these houses the rent market in rural Ireland is lower and the rent supplement scheme and HAP scheme accommodates the rent market in rural Ireland.
Homelessness is increasing day by day – in Dublin five new people are becoming homeless every day. This has to stop now. The need for more investment in social housing, more flexibility in mortgage arrears and more state intervention in the private rental market is essential.