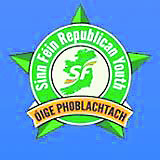 By Molly O'Rourke
For the month of November, five of our Members (Chris, Joe, Ryan, Kenneth and Paddy) embarked on a major effort to help raise some much need funds for the local Novas Initiative Centre for all their hard work with the homeless.
As we all know, homelessness is a major issue facing this country at the moment and fair play to the lads for taking on such a challenge.
Lets face it, a month off the beer is not an easy challenge for college students especially the five lads that took on this challenge, because if you know any of them they are regulars in the Stables and can often be seen there having the craic with the bar staff and DJs who all know them by name.
So if you see any of our members around please do donate whatever you can to the cause as every cent raised will be donated to the Novas Initiative.
We also plan on having a sleep out in the Courtyard at the end of the month so keep an eye on our Facebook page for further info on all things Sinn Féin.