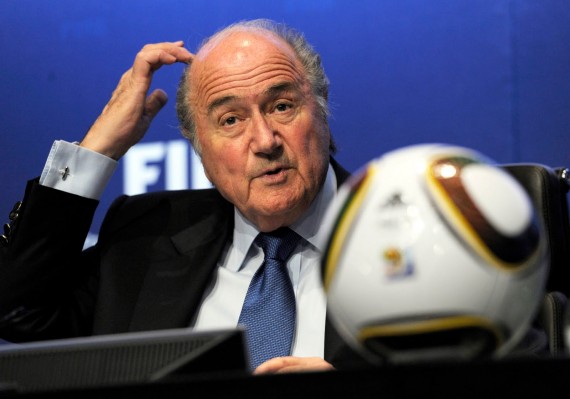 In December, the Serbian FA were fined just €80,000. Worse still, two English players – Steven Caulker and Thomas Ince – were banned for two games and one game respectively for essentially coming to a teammate's aid.
Mr Blatter, do you and your FIFA colleagues honestly believe that monkey chanting towards black players and general racist abuse are four fifths of the crime that displaying a company slogan on your underwear is?
Judging by your punishments, you do.
"I don't think you can run away, because eventually you can run away if you lose a match."
Mr Blatter, do you honestly believe that abusing somebody as a result of their colour, creed, race or religion is, in any way shape or form, akin to a football game?
Do you honestly believe that walking off the pitch after being racially abused and walking off the pitch because you have a lost a match are the same thing, Mr Blatter?
"The only solution is to be very harsh with the sanctions – and the sanctions must be a deduction of points or something similar."
Indeed. I agree 100%, Mr Blatter. You have the power. Do it.
The reality is though that, unfortunately, this will not happen at any stage in the near future, Mr Blatter. Why? Because you and your FIFA workmates lack consistency. Even further than that, you lack any sense of reality.
The sane solutions – throwing out the minority of fans giving the abuse, banning them – have been exhausted. It is up to FIFA, as governing body of world football, to come up with a way of cutting this disease out of what is, on this occasion, the not-so-beautiful game.
Racism is a criminal offence. Let's not dress it up any other way. If you or I went out on the street and uttered a racist remark, we would be charged with a racially aggravated public order offence. Rightly so, may I add.
When a criminal offence is committed, the punishment must appropriately do just that to the offender – punish them. It must also, in some way, serve a sense of justice to the victim. No matter how many thousands of euro you fine various different football associations, Mr Blatter, they will find more money. They are very rich people – like yourself. Besides, it is not the football associations committing these crimes – and therefore it is akin to putting an innocent man into jail if the money isn't coming out of the back pockets of these racists.
Furthermore, what sense of justice does it give Kevin-Prince Boateng to find out that these racist bigots simply cannot attend one game. They can go to the next one. And the one after. And the one after that. The punishment is no different to a fan being sick or ill on one given Saturday.
So let's take points off them, Mr Blatter. Take points off of the fans of these offending teams. Teams are given automatic point deductions for entering administration, aren't they? Administration isn't the fans' fault, but it still happens. Administration is also not a criminal offence, unlike racism.
Mr Blatter, please don't issue hot air statements any longer. If you're going to criticise Kevin-Prince Boateng for walking off the field, at least come up with a better solution first. And if you're going to come up with a solution, make it an appropriate one, and please implement it properly and consistently. You have the power to eliminate this ignorance from a game that is considered an international language unto itself.
Perhaps it isn't Kevin-Prince Boateng that's running away, Mr Blatter. Perhaps you are.
Josh Prenderville
Part 1 is available to read in issue 7 of An Focal at issuu.com