Us Ireland fans are no strangers to last-minute losses and agonising draws. Ever since Thierry Henry handpassed the ball to William Gallas in 2009 to crush a nation's hopes and dreams I have never felt comfortable when Ireland lead in the dying stages.
So, when Ronaldo leapt like a salmon to head in the winner in Portugal last week I was disappointed, yes, but I almost knew it was coming.
Of course, the ref wasn't exactly having the most unbiased of games but excruciating defeat comes with the package of being a fan of Irish football.
In spite of this, the fans are usually united on the plight of the manager; From McCarthy to Kerr to Staunton to Trappatoni to O'Neill and back to McCarthy again we give the man in charge a chance to bring us to a major tournament or at least give us some memorable performances.
If this doesn't materialise then the knives may come out.
However, I have never seen such a divide in the fanbase over a manager like Stephen Kenny. The Dubliner was the leading light of the underage Irish national team scene and was due to take over from McCarthy anyways in the summer of 2020. Due to the outbreak of Covid-19, this handover of the senior job happened in April of that year instead.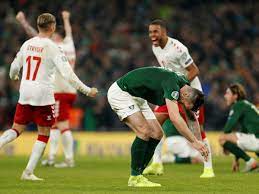 While I am in favour of Kenny staying on for another qualifying campaign, his tenure so far has been less than ideal – Ireland have only won one game out of his first fifteen in charge.
In those fifteen games, Ireland have only scored 12 goals and have conceded 14. Ireland have not won a single game in this current World Cup qualifying campaign, shockingly losing to Luxembourg and drawing with Azerbaijan.
A late, fortunate own goal was required to draw with Serbia on Tuesday evening, and while the team was rightly praised for their heroics in the defeat to Portugal last week, it was still a loss. 
Results, or lack thereof, is the main argument for his sacking, while his long term plan and the installation of a more attractive style of football in the team is the other side of the coin.
The three qualifying games seemed to prove both points for both sets of fans. Ireland conceded first against Azerbaijan and Serbia before equalising late, saving their skin and earning their first points of the campaign.
FAI CEO Jonathan Hill recently refused to back Kenny for the Euro 2024 campaign, stating that they will have that conversation as a board in November.
Kenny's current contract runs out in July 2022, and while I believe he will be in the manager's chair for the Euro qualifying campaign beginning in 2023, he will need to produce the goods in the final four World Cup qualifying matches in October and November.
However, he doesn't need to convince me, he needs to convince the FAI board!  
Stephen Kenny, in a press conference before the Serbia game, gave his own take on the situation. He asked rhetorically did anybody actually expect Ireland to qualify for the 2022 World Cup. If you are being honest with yourself then the answer is more than likely 'no'.
Richie Sadlier gave the same answer in the post-match analysis on RTÉ 2. No, nobody expected Ireland to qualify with the current crop of players from a group containing Portugal and Serbia.
We would have liked to beat Azerbaijan and Luxembourg along the way but, realistically, we did not expect to make it to Qatar.
Kenny is trying to build a team for the future and more importantly, trying to get the team playing a more attractive style of football. We saw glimpses of it against Portugal and Serbia.
Obviously, we had to rely on set pieces and long crosses to get our goals in both matches but there were passages in all three games over the last week where we looked like an impressive team.
There is more at play here than just replacing Kenny if that is what some people want. The controversy surrounding John Delaney and lack of funding in the F.A.I. in general means that we are probably stuck with Kenny whether some like it or not.
The manager's focus is Euro 2024.
While he does need to get a win in the next international break, the signs are there of a serious squad in the next few years.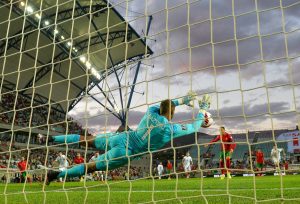 Gavin Bazunu has been a revelation between the sticks. The fact that his most direct competition is Caoimhín Kelleher, playing at Liverpool, while Bazunu is at Manchester City, is brilliant and can allow us to dream of possibly two world-class goalkeepers for Ireland.
Andrew Omobamidele has shown great composure and confidence on the ball in his two caps so far, while Adam Idah put in some stellar performances up front over this international break.
Matt Doherty turned on the style over the last week, showing that he can play just as well for Ireland as he does for Tottenham or Wolves and Shane Duffy seems to be coming back into form, throwing his head at anything that moves in the six-yard box! 
The real question is whether we stick with the current project and try and build something new or revert to type and go back to launching it forward. There is no doubt that we have had some famous results doing so.
I'll never forget Shane Long's goal against Germany in 2015, but I think we need to move forward instead of look back. I for one would like to see what happens with Kenny's journey as Irish manager.
He may need a new influx of Irish youngsters but who knows what could happen between now and 2024?