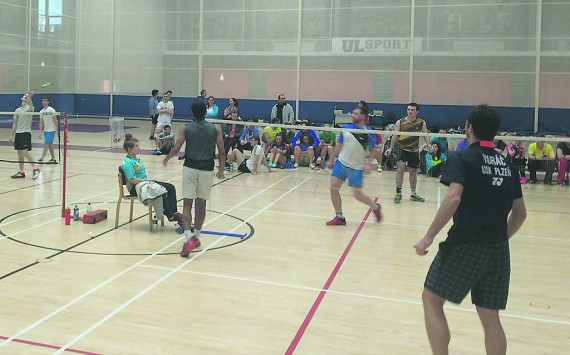 By Brian Crowley
The annual Irish International Student Badminton Tournament (ISBT) hosted by the UL Wolves Badminton Club last month brought colleges from all over the country and even as far as the Czech Republic together. Over the course of the three days, participants got to play plenty of badminton. The event was graded based on ability and players got to partake in two of either men's or women's singles, men's or women's doubles or mixed doubles.
The night time socialising saw students "gettin' jiggy with it" in Crush87 nightclub, playing beer pong in Costello's and swamping the Stables Club in fancy dress associated with this year's theme of board games. Participants' appetites were also well looked after with a delicious cooked lunch and dinner in the Stables Club each day over the weekend.
On the final day of the event (Bank Holiday Monday), participants played one extra round in each event and then watched the finals of each event while eating pizza. The highlight of the day was undoubtedly the Men's A Singles final which saw Prakash Nath and Liam O'Leary battle it out in a fast paced and very thrilling match in which Prakash emerged victorious. Afterwards, with the other students packed and ready to go back to their colleges, the farewells going around the hall were too emotional for some. It is with great anticipation that everyone waits for the next ISBT.
The UL Badminton Club are also well into the Limerick League, with teams currently competing in men's and women's doubles events. The league will run throughout the academic year. It has so far given new members the chance to stand out while also greatly improving their badminton skills. Some senior members of the club also very recently partook in the Waterford Invitational leaving with top place in the mixed doubles event and runners up in both men's and women's doubles.
As per usual, training times for members are weekly on Monday and Wednesday from 9:15pm to 11pm in the UL Sport Arena. It's never too late to join so some along if you're interested!