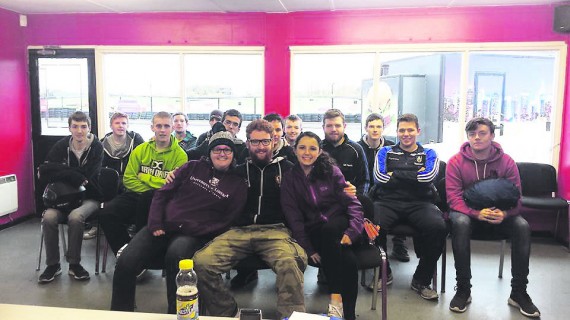 By Paul Jordan
For the Halloween weekend, our society headed north, all the way to Belfast in fact. Why? Because RACECAR! Located outside the city is Nutts Corner, an international standard race track. What better place is there to have your first trip of the season.
We left UL at 6pm on Friday and headed to a hostel on the outskirts of the city, but it wasn't long until the bags were dropped off and we showed Belfast how to have a good night. We headed to a club just a five minute walk away from the hostel and the hours flew by until it was eventually time to close the doors and head to our beds.
In our tired state, we talked about a whole range of topics, from postboxes and otters, all the way to one lad's missing helmet. Maybe the northern air was getting to our heads. The following morning we went out on track, but you'd almost be tempted to bring a sailing boat rather than a kart because of how much water was on the circuit. Nevertheless, we all had a great time and nobody got too wet.
The following Tuesday saw the first round of this year's SSI Intervarsity Championships in Nutts Corner. For the first time in the history of ULRM, we brought two teams to compete. Diarmaid Toomey, Cathal O'Donnell, James Hennessy, Jason Buckley, Paul Curran, Aaron Clifford, Cathal Dineen, Darragh Lynch, Evan Kearns and Josh Sherry were chosen to represent our society.
The early morning rain made conditions on track slippery but our trip to the track a few days before made it a bit easier for us. Our drivers secured some great podium finishes in the heats. One great positive we had was that we found some real talents in our new drivers. Overall it was a great day and we're ready to take the fight onto the next round in Pallas on Wednesday.
Coming into the final stages of our league, Cathal O'Donnell has opened up a slight lead on Jason Buckley in the A Championship, while Aaron Clifford and Darragh Lynch are trading blow for blow in the B Championships. It's still all to play for.
In the next couple of weeks, we will be heading to the brand new track in NKC Cork, which opened in September. If it can be as much of a success as our trip to Belfast, it sure will be something not to miss out on!