By Michaela Keating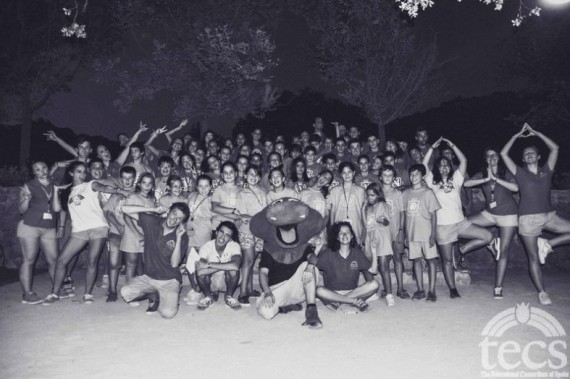 Every day I want to go back. It sounds super soppy, but anyone that has ever travelled abroad and loved it feels the same way. Last summer, I spontaneously decided that I would go to Spain for five weeks to work in an English summer camp for Spanish kids. My desire to get away from waitressing at home and lust for a bit of sun was all the motivation I needed to apply for the job once I had heard of it. Only problem was I would be travelling alone.
TECS , The English Consortium of Spain, is a company that runs  English summer camps for children from different camp bases all over Spain. They recruit assistant monitors, monitors and TEFL teachers from English speaking countries to help run the camps. You don't need to have a word of Spanish going over as you have to talk to the kids in English at all times. When you apply, you choose which position you are most suited to, or qualified for, and I chose the position of monitor.  After an interview I was offered the job.
I am far from shy and most definitely not a home-bird but the fact that I couldn't find my way out of a paper bag was proof that going to a non-English speaking country with severely poor Spanish and a non-existent sense of direction, might be a slight issue.
However, I ignored that fact and headed for Spain after my exams in June. Surprisingly, I navigated my way around Dublin airport just fine by myself which was a proud moment. What happened when I reached Spain was the real issue.  The lack of WIFI to contact the good people of TECS to inform them of my arrival proved to be a problem and their phone number conveniently wouldn't ring.  After a stressful few hours I finally heard Irish voices and followed them, and by the luck of god we were all headed to the same place (miracles do happen).
From the off, the schedule at the camp is intense. Week one is training week, where there's moments where you're thinking of packing it all in and heading home because it's so different to what you expected. You are taught how to communicate with kids by playing games, singing and dancing. This is all done with adults, so by the end of the day you feel like an absolute eejit that you've been jiving away with your co-workers.
Once you get to camp and the kids arrive, you get yet another wake up call. They do not want to learn English and will do everything in their power to defy you. It's so much fun. Not. You embarrass yourself to no end trying to entertain them with the songs and dances you learned during training week, but they will stare blankly at you until you're shamed to stop. However, after a few weeks you make a genuine bond with those little chicos and chicas. I genuinely lost my voice from having the banter with them at one stage. As someone who finds kids challenging to say the least, I can honestly say you will be sad to see the little feckers go when their time at camp is over.
The best part is the people you work with. I worked with a mix of Irish, English and Spanish people and have without a doubt made friends for life from different parts of the world. The craic you have with your co-workers in that environment is mighty, and the fact that you can go to the pool and lounge around in the sun on your time off isn't half bad either!
Travelling alone is by no means easy, especially for a significant period of time if you haven't done it before. The experiences you have and the people you meet make it so worthwhile and are guaranteed to give you a taste for more. I can safely say my time in Spain was one of the greatest experiences of my life and I would go back in a heartbeat. If you have never travelled alone, do it.