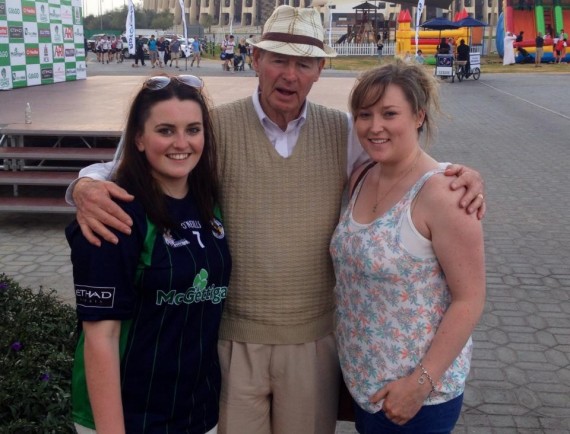 We have lived through the hurling finals in the gale force wind, experienced playing in our local grounds while sleet overcame us and cheered on the side line as the sun set and the midges began to bite.
GAA is part of who we are as a nation, so what happens when a generation of Irish graduates emigrate due to economic crisis? Does our culture deteriorate for the following generation? No, somehow it has grown, to something more than we ever could have imagined thirty years ago.
It has grown so far and so wide that the first ever GAA World Games was held in Abu Dhabi during the first weekend in March. I was lucky enough to attend the Games as I had planned a trip to Abu Dhabi for the same week, but would I endure 20 hours of travelling for this competition again?
How do you evaluate whether an event was worth attending? The facilities, well they were the same as everything else in the United Arab Emirates – second to none. The pitches were freshly lined out, the umpires and linesmen had their luminous bibs and the O'Neills footballs smelled as leathery as they do back home.
The event was split into local games and the actual GAA World Games. The local games consisted of men and women's football, hurling and camoige playing from early in the morning until evening. Just think of the Cuman Na mBunscoil days where you spent hours hanging out with your team mates and if one team didn't have enough players someone from a different team could fill in. This brought me back to my own experience of playing GAA in school.
The chances of bumping into someone you know while you are 7000 km away from home is highly likely. This adds to the enjoyment of the whole experience as all around you see people are hugging, saying "Ah John, I didn't know you were coming, how was your flight?"
All around you there are endless conversations of schools, children and homework as young teachers who travelled abroad for work gather together to play our native sport.
The atmosphere created when Irish people get together so far from home is one of the greatest feelings in the world. I had the joy of bumping into my old football trainer who lives 5 minutes down the road but who I hadn't seen since I played an U16 final back in 2009. The moment when someone so close to home catches your eye so far from home, is truly comforting and uplifting as you share a moment of pride and common interest for just a split second.
Another highlight of the event was finally meeting the people I had heard so much about from my brother. There were best friends from Kerry, coaches from Clare and even a girlfriend from Galway.
Each and every person attending had been born and raised on Irish soil and my God did it show.  Accents flew around with Northern Irish "wee" words meeting sharp rebel accents everywhere you turned. This was only enhanced by the commentary of the living legend that is Mícheál Ó Muircheartaigh in the World Games Cup Finals. While he mixed up the scores and his accent remained the strongest on the pitch everyone enjoyed being in his presence and we were sure it was only the excitement getting to him.
Seeing the Irish families at the event was one of the biggest shocks. There were young families everywhere, with parents playing in the Games.  While I know exactly what it's like to see someone pack up and leave Ireland straight after college to live in this different country which is worlds away from our own, I haven't known anyone to pack up and decide to rear their family in a country which is so different from Ireland. It was heart-warming to know that while these children were growing up in Abu Dhabi, they were gaining that experience and Irish bond that only GAA can offer a child.
Travelling half way around the world, to see something that happens in the local GAA pitch every weekend might seem slightly ridiculous to some. But for me it was so much more than that, and for anyone who grew up in a GAA family I can guarantee you, you would love it. The event is so much more than watching a couple of matches, it is the spirit of the Irish people that make it what it is. As I sit here and right this on the International day of Irish celebration – St. Patrick's Day, it intensifies that feeling even more. The only thing missing from the Abu Dhabi GAA World Games was the gale force winds, the sleet and the midges.
By Michelle Hogan