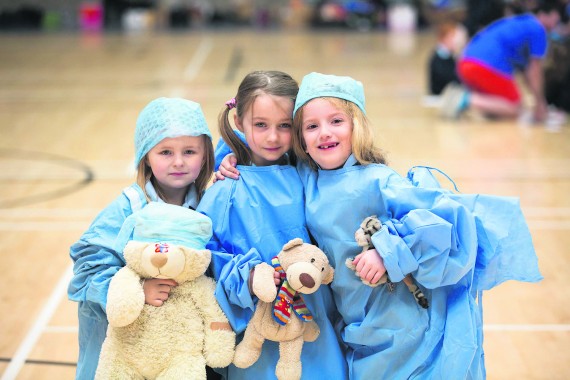 By UL Medical Society
Medical Students at the University of Limerick will be hosting the University's annual Teddy Bear Hospital (TBH) with over 500 of Limerick's primary school children from 6 different schools attending with their teddy bears in March.
The aim of the event, which is being organized by six current Graduate Entry Medical School (GEMS) students with a particular interest in childhood medicine, is to alleviate childhood anxiety about the medical environment, its procedures and the professionals that work within it. The event is filled with learning and laughing, where the kids can interact with future doctors to learn they they aren't so scary after all!
Over 130 first and second year medical students took part in the event last year which included 10 medical stations set up in the University Arena, focusing on activities including: X-ray, Exercise, Surgery, Asthma, First Aid, Pharmacy and Healthy Eating. The children and their teddy bears are seen by a team of teddy bear doctors, who will examine them and give them necessary treatment/lessons at each station.
The UL Teddy Bear Hospital has grown significantly every year to involve more Medical Students, as well as more children from the Limerick area. The initiative has served to strengthen the relationship of UL GEMS with the surrounding community. This year's annual event will be taking place on Wednesda,y March 9th, and will be open to the public from 3 to 5pm. We encourage UL students to bring any children to the Limerick university arena for the event. Pre-registration is suggested not required and admission is free! This event is aimed at children ages 3-10, however any age is welcome.