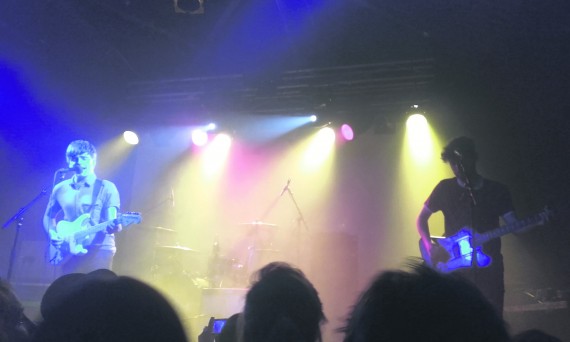 By Eilís Walsh
Tuesday was day three of UL's Charity week. There was great excitement as one of the main gigs of the week would be The Academic playing in Dolans. These boys had previously played for the university before, supporting Hudson Taylor in a gig hosted by UL Music Soc. However, this time these Mullingar boys would be the main event.
There were a few support acts on in Dolans Warehouse such as Guilty Page and Dáithi but one that stood out the most in my opinion was The New Social. A five piece band from Mayo, these boys sang their own original tunes for the crowd which were received really well. I remarked to my friend Maoilíosa that the lead singer's vocals sounded a lot like that of the lead singer of Kerry band Walking on Cars. However they still had a uniqueness to their tunes, ranging from sad ballads to upbeat tunes to dance to.
The Academic themselves graced the stage at about 11pm to rapturous cheers. Something I noted about their set is the band knew the right balance of tunes to suit the ground. They played sweet tunes such as "Northern Boy", a song that tugged at my heartstrings a little bit and made me emotional. But then they played well known "Sometimes" and a banger of a tune called "Different", the first tune I ever heard of theirs. "Chasers" is a tune that has a very catchy guitar riff so keep an eye out for that in particular. There was quite a bit of jumping around, swaying and swishing my hair.
They knew well how to interact with the crowd, getting them to sing back lyrics and chants. There was generally a good atmosphere. I was delighted to note that their live vocals sound the exact same as on their recorded EPs. I had the pleasure of interviewing this band on my own blog last summer, so it's been an absolute pleasure to watch these boys' reach expanding throughout the country. I am extremely proud to be Irish so I support Irish music where I can, no matter what.
Personally it weird for me to be back in Dolans after months of not going, I'll admit a little nostalgic for me, having gone to D.I.E only in the warehouse in my first year of college. I found myself observing the room and remembering all the memories I had there. However it certainly was nice to return to listen to a talented up and coming Irish band. I genuinely wish them the best of luck and I encourage you to support them too!