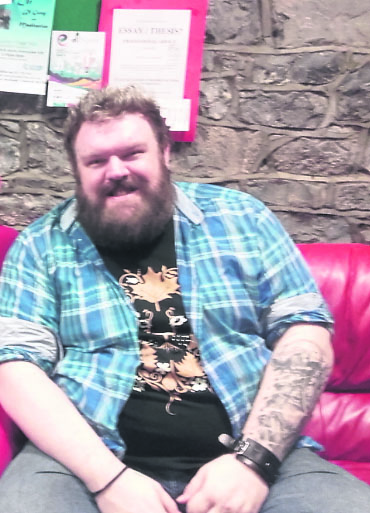 By Eilís Walsh
This was an event that most people were looking forward to. For those that somehow don't know about Game of Thrones, it's a world renowned fantasy TV show. There's dragons, incest (YES I KNOW) and that's it. (Not really). But UL's ENTS team managed to secure a performance from Kristian Nairn, an Irish actor who happens to play man of few words, Hodor from the TV show.
I will have to admit I was very surprised when I heard about it. Yes, I was excited but I was surprised. I am one of those millions of Game of Thrones fans but I also was skeptical. Hodor? DJing? I had never heard of it. Was he any good? UL ENTS knew what they were doing getting this performance however. First of all, the music that would be played is really appealing to college students. It's what they listen to before a night out and then actually in the clubs.
Working for An Focal, I had the privilege of getting a pass into the performance with my friend Pamela as my plus one. There was an electric atmosphere in The Stables. By the time we were finally allowed outside, chants of "Ho-dor, Ho-dor, Ho-dor" were breaking out among the throngs of students jostling for a good position.
The DJs before Mr Kristian Nairn were surprisingly good. I have to be biased and speak out about the female DJ Sarah Hayes, who did both a fantastic job and looked flawless at the event. I was delighted at the reception to her and the other DJs. It just shows that we've very talented people in our university. By the time this set was over the crowd were craving the man event. I remember not being able to breathe as it was so crowded. I wrapped my arms around my friend, who is considerably shorter than I am, so I could prevent her being squashed by the taller people there.
It was midnight by the time Mr Nairn made his way on stage, where he exclaimed "It's been 17 years since I've been DJing in Limerick". He was greeted by loud cheers and calls of "Hodor". The man is one of the tallest people I have ever seen, but had a really big grin on his face. A stand out tune was an excellent remix of Birdy's "Keeping Your Head Up", which had me grooving to my heart's content. My friend kept laughing at Kristian's foot tapping the whole way through, but I'm not sure why. Some of the tunes played didn't have words, but what they had was amazing beats. I can still dance to instrumentals. It's all about the beat.
At the end of the night myself and Pamela found ourselves at the very front of the crowd, dancing away. After pulling a very happy Sam (co-op in the reception) to the front, we threw big grins at our dear friend Keith Quinlan and lo and behold we found ourselves getting a photo with Kristian Nairn himself.
So a big thank you to Keith, a man some refer to as "king" of the SU and Kristian Nairn himself for providing us with great entertainment.