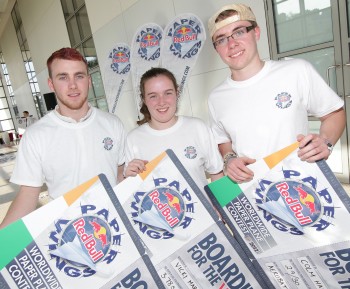 The countdown to crown the world's best paper plane pilots is now on.
After proving themselves against the best in their county, the world's finest will be looking to up the ante in Salzburg in a quest for the coveted title and perhaps a new world record.
The chosen few charged with the honour of representing their country at the World Final have to show their mad paper skills at the National "Qualiflyers" first.
The tried and tested formula from the World Finals in 2006 and 2009 is set to rock Austria for a third time as the finalists do battle in three disciplines: Longest Distance, Longest Airtime, and Aerobatics.
The qualifiers took place in UL on the 27 of February and our 3 winning contestants then tried their skills in the national qualifier in UCD.
UL have two contestants representing Ireland in the World Final under the Best Aerobatics and longest airtime categories!! This is a huge achievement for them and it will be a great experience for all involved.
The event begins on Friday 4 May with the pre-elimination round. The Overall Final will take place on Saturday evening, with the winners crowned Red Bull Paper Wings World Champion 2012.
Red Bull wish our UL contestants Vicki and Colm the best of luck in the final and hope they are crowned champions in their respective categories.
To follow our UL contestants and keep informed about the Paper Wings competition go to www.redbullpaperwings.com