As it stands, UFC Welterweight Champion Kamaru Usman is well on his way in following in the footsteps of former Welterweight champion George St. Pierre (GSP) after an emphatic demolition job of former team-mate Gilbert Burns at UFC 258 on Saturday at the UFC Apex arena in Las Vegas.
Usman stopped Burns early in the third round via TKO with a serious of jabs that sounded as damaging as the looked in the eerie sounding arena. 
The fight, however, started off with Usman in trouble. After being rocked by Burns with a swift right hand, Usman dropped to the canvas, picking himself up just before Burns could have capitalised.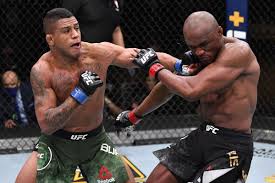 What is noticeable about this, however, is that this is, to my recollection, the first time Usman has been laid out in his 19-fight professional career yet. 
Anyone who thought Usman would pick apart Burns early on (me included) were in for a rude awakening as Burns turned up the pressure throughout the first round with intense striking, walking down Usman before being met with stinging jabs that made Burns think twice about exchanging with the powerful Nigerian. 
Round two started out with Usman in total control, and after an exchange of jabs, Burns left himself open for a stinging overhand right from Usman which like Usman, Burns picked himself up but looked stunned at what had just transpired. 
Burns was clearly still hurt, as followed by a stiff jab from Usman to drop him for the second time of the fight.
Round Three was ultimately the decider round as Usman finished his former team-mate with yet another stiff jab that floored the Brazilian and was met with thunderous ground and pound to stop the fight. 
Usman yet again showed why he deserves much more respect than he is given by his critics and fans. 
Usman himself is aware of the lack of fanfare he has received throughout his UFC career, some criticism justified but now is the time to give credit where credit is due, and by his post-match reaction to his victory, Usman kept repeating ''put some respect'' on his name. Screaming it multiple times in the cage and in his post-match interviews.
If you look at Usman's already bolstering résumé, you can only wonder as to why the guy is not as regarded as the so-called faces of the UFC, compared to the likes of Conor McGregor, Khabib Nurmagomedov, Jon Jones, Stipe Miocic and Amanda Nunes, Usman has a point. 
Amongst those high-calibre stars Usman is never regarded in that bracket…maybe being discussed below said champions. 
Usman has rarely been regarded as a charismatic champion with a striking personality, and I know that in today's day and age of the UFC this is a major appeal to becoming a star. 
Usman has the talent, but not the fandom or notoriety and that is a shame – seeing someone as elite as Usman not given the respect is a travesty in humble terms.
Ironically, being dominant in the UFC has gone the opposite way that Usman would have liked, putting on wrestling and grappling clinics in his previous title outings has made fans sway away from the Nigerian, from his top game to his infamous toe stomps. 
In terms of stats, Usman has just broken GSP's record for most wins in a row at Welterweight (170 lbs) with 13 consistent wins and one can only expect him to continue this run of form. 
He also ties Khabib for second-most wins in a row to start a UFC career-only bettered by Middleweight GOAT Anderson Silva with 16 wins to his name. 
Stats like these should propel Usman as the current pound-for-pound #1, of course, this list is subject to change.
However, there are already discussions of Usman being the GOAT of the division. 
Yes, he has just beaten one of GSP's many records, but let us be honest, he would need to beat a lot more records to even compare to GSP with only three successful title defences to his name in comparison GSP defended his title a total of nine times with much better opposition.
Three title defences should not be scoffed at but it is nowhere near GSP's nine.
So, what now for Usman? Well, one would assume a rematch with Jorge Masvidal is on the cards after his callout post-victory Usman went on the call-out Masvidal and threatened to "put him in a coffin this time'' after their first encounter last July which saw Usman run out victorious with a unanimous victory after Masvidal came into the fight with six days' notice.
One would hope for a much more exciting fight after their first was truly dominated by Usman, and by the looks of things Masvidal is game for another title shot! 
With rumours of the two facing off against each other as coaches on the upcoming series of TUF (The Ultimate Fighter) the rivalry is only starting to gain much more interest and with Masvidal's worldwide appeal, Usman may be able to benefit from another win over his rival.
Colby Covington and Leon Edwards is a matchup UFC President Dana White is working on and that may work out in a positive way for Jorge.
Whatever happens, Kamaru Usman deserves recognition for his dominance and in my opinion is on his way to becoming an all-time great, even if some fans want to disagree otherwise.