Ireland's lineout has been one of the positive factors in a disappointing start to the 2021 Six Nations campaign for Andy Farrell's men.
Those involved have looked comfortable with each other with the plays they have been using.
Peter O'Donnell from The Lineout Lab thinks that Ireland's set piece work has been impressive considering the injuries they have suffered.
"I think it's been pretty good to be fair. I think losing [Peter] O'Mahony in the first game so early in the Welsh game was obviously a disappointment…obviously losing James Ryan as well was a big blow."
Ireland coped well with the loss of two of their star forwards, who were both off the field after 25 minutes against Wales in round one.
They lost two of their nine lineouts across the 80 minutes, outperforming their 15-men opposition by four per cent, and continued this form in round two, earning a 100% success rate against tournament favourites France.
However, Mr O'Donnell believes that the lineout was not as big a problem as people thought it was last year, and what we have seen now is just a more refined rendition of that area of the game for the Irish.
The former Leinster pathway coach refers to the multiple pessimistic arguments after the Autumn Nations Cup loss to England, and their use of terms like 'systematic failure' as an "overstatement".
He refers to Rónan Kelleher, making his first start for Ireland in that game, with James Ryan taking on the responsibility of calling the plays against a very experienced group of English forwards.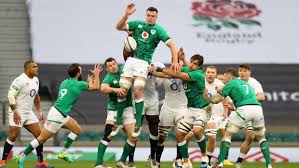 Ulster veterans Rob Herring and Iain Henderson have more experience playing together during their careers at both club and international level.
Kelleher and Ryan have had minimal time together at both Leinster and Ireland compared to the above pairing and will need time to nurture such a bond.
O'Donnell believes that it takes time to build the relationships that are needed to work together to win high-level lineouts.
"When things are going badly, [people] love jumping on the bandwagon and saying that the lineout has been terrible for years."
He also cites the revolving doors that are the second row, flanker, and number eight spots as reasons for the side's shortcomings last year, as they never had as settled a pack as their competition.
The squads that have been selected have forced Ireland to use inexperienced combinations to complete their forward line-up in numerous games under Andy Farrell.
CJ Stander has improved his jumping game, but Caelan Doris and Will Connors are not experienced jumpers which puts stress on whatever second-row combination of Tadhg Beirne, Quinn Roux, Henderson, or Ryan; to over-perform to cover.
Regardless, the former national women's team coach does welcome the inclusion of Paul O'Connell in the backroom staff from this year onwards.
He believes that Paul O'Connell's presence will prove valuable to the Irish setup, even with a supposed lack of coaching experience, noting that there was positive discussion about the announcement among other coaches of the game.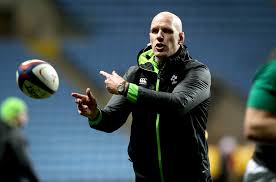 "He's got a lot of value to the Irish setup – I think you can see the fruits of that already. Some of the movements we've been doing in our lineout are movements we've been doing anyway, in the last year, but I think he's tidied it up."
The Limerick native has opted to keep things simple so far, making only minor changes to the maul and trying out some interesting lineout moves – like Henderson turning around to lift Rhys Ruddock against France.
The result has been a successful transition from the Easterby era to the O'Connell era.
However, O'Donnell does not feel that the improvements are as drastic as people are making them out to be.
The Lineout Lab's founder makes an example out of a maul against Wales in the Autumn Nations Cup last year.
Taulupe Faletau could have been penalised for his actions while attempting to stop the Irish maul, and had the officials on the evening noticed this foul play; they would have been inclined to award Ireland a penalty try and, in doing so, perhaps altering the public perception of Easterby's work at that time.
Mr O'Donnell feels that Ireland's problems with set-pieces have been accentuated by the lack of quality ball being played when looking to attack.
The fly-half berth that Johnny Sexton has held for years needs substantial and effective depth, but the options available have struggled to perform.
"The backline is just not gelling in some respects and I think we need to try something new."
This is partly down to how Ireland plays the ball – they mainly play off the no.10.
Our fly-halves can be static when receiving and making passes – the last passage of play v France is a prime example of this, with Ross Byrne not moving towards the ball and then passing behind him, rather than placing it flat for the inside centre to run onto.
"We've invited more pressure on Garry Ringrose and Robbie Henshaw by having [our fly-halves] play too deep"
Playing off nine would have been a more suitable approach considering all Ireland needed was to get within range for a drop goal at the weekend.
Mixing both styles would prove beneficial for Irish rugby as "[our play] is too predictable."
Ireland's nines and 10s themselves have been at the centre of discussions in recent weeks.
Sexton and Murray will be 38 and 34 by the time the 2023 World Cup begins, and Ireland's Mr Dependable, Keith Earls, will be turning 36.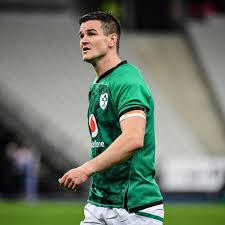 Many are pushing for the likes of Harry Byrne and Craig Casey to get a chance.
Peter does not think it will happen but would be willing to give them a go.
He remembers being at Lansdowne Road for a changing of the guard in 2000 against Scotland.
"That was the next generation. We shipped [50] points against England, and then Warren Gatland comes in, and Peter Stringer starts, Ronan O'Gara starts, Shane Horgan starts, Simon Easterby starts, and John Hayes starts.
"[O'Gara] did pretty well to be fair, but it takes time to develop your skill and your craft.
"I would love to see something a bit different [nowadays in the back line]."
Paul O'Connell has ironed out the creases of Ireland's lineout (at least initially), but for a lineout to be as effective as it can potentially be, other pieces need to fit into the jigsaw perfectly, whether these pieces change shape or are new pieces entirely is in the future.
Irish rugby is not quite ready to take a second step forward just yet, but the lineout is the least of their worries.
Peter O' Donnell is the founder of The Lineout Lab, which offers coaching, courses and consulting on all thing concerning lineouts. You can find videos breaking down the way teams play on The Lineout Lab's Youtube channel as well as on Facebook, Twitter and Instagram @lineoutlab.