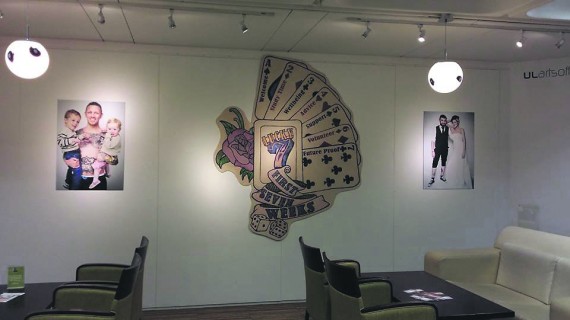 By Patricia Moriarty
The University of Limerick Arts Office will celebrate 15 years with an exciting programme of events for the autumn semester this year.
Established in 2000 the Arts Office supports the activities of arts organisations on campus and works in partnership with other national arts bodies. Over the years we have collaborated with Clubs and Societies in promoting their activities to a wider university audience. DramaSoc, History Society, UL Literary Society and DebU, and even OPC have all worked with us over the years producing many memorable events.
One of our main pop up areas is the VisUL space in the foyer of EDEN restaurant. We have had several interactive site specific projects here from tattoo walls to chalkboards to literary competitions. The University of Limerick Arts Office Facebook page has an archive of all these events.
This year the long established SoUL Week becomes SoUL Arts Fest echoing its development into a weeklong showcase of music, dance, drama, comedy, debate even cups of tea in the hallowed rooms of Plassey House. In-house Music Society bands will play the main stage supporting some big names and fringe events will take place all over the campus.
Watch out this Autumn for 'Waiting in Line', an award winning innovative production by Limerick-based Honest Arts theatre company; exhibitions by the UL Tea Appreciation Society; a one off drama commission during SoUL Arts Fest. There will also be an Arts booth travelling to different locations on campus where you can take the opportunity to tell a story, sing a song or generally unleash your creative side.
The Arts Office will also offer a six week long art therapy workshop, free of charge to eight students. The participants will have the opportunity to use the visual arts to explore their experiences of university and no previous arts experience is required. There are also life drawing classes every Tuesday in Dromroe Village Hall.
Events
SEPTEMBER – DECEMBER 2015
September 16, 7.00pm
CSG-01, CSIS Building UL
The University of Limerick's Creative Writing programme presents a reading by Pulitzer prizewiining author Richard Ford, introduced by Joseph O'Connor, Frank McCourt professor of Creative Writing, UL
ADMISSION IS FREE BUT RESERVATION IS ESSENTIAL.
TO RESERVE A SEAT/SEATS PLEASE EMAIL claire.ryan@ul.ie NO LATER THAN                                 FRIDAY 11TH SEPTEMBER
Supported by University of Limerick Arts Office and Limerick City and Council Arts Office
September 18, 12.30 – 2.30pm
Bourn Vincent Gallery, Foundation Building
SELFIES OPEN HOUSE
To celebrate Culture Night the Student Affairs Division invites you to an open house at the Selfies Exhibition. Experience live life drawing from 12.00 with artist Marie Claire Boothman, enjoy a few tunes from UL's house band Cruinniú and a cúpla focal from Eoin Devereux, professor of Sociology in UL and author of the academic bestseller Understanding the Media and co-editor of David Bowie: Critical Perspectives (with Aileen Dillane and Martin J. Power). All washed down with tae, hang sandwiches and MiWadi!
September 22 – 23, 8.00pm
Jonathan Swift lecture theatre, ( B1023 ), 1st floor, Main Building
WAITING IN LINE is a fast paced social commentary on the 'social welfare culture' that has been created in Ireland over the past 25 years and is presented by Honest Arts Production Company.
Performed by Pius McGrath, Eva O Connor and Johanna O' Brien and directed by Tara Doolan. it combines Artistry and the latest in 3D mapping technology. This fast paced, thought provoking, physical theatre piece was nominated for Best Set Design at the Irish Times Theatre Awards 2015 and winner of Cutting Edge Artisit award at the Toronto Fringe Festival, 2015
Admission €10; €5 concessions Enquiries and booking details at ularts.office@ul.ie or 0868930919
September 22 – December 8, 8.00pm
Dromroe Village Hall
Weekly life drawing classes with the Limerick Figure Drawing Society
Free introductory class on September 22
Enquiries to ularts.office@ul.ie
September 24 – October 31,  1.15pm
Bourn Vincent Gallery,1st floor,  Foundation Building
HYPHAE
An exhibition featuring The Mushroom Book with work by John Cage, Lois Long and Alexander H.Smith; soundwalks by Softday and new work by Helena Grimes
Curated by Yvonne Davis and Patricia Moriarty
The Mushroom Book is on loan from the Limerick City Gallery of Art
4.33 – a performance of John Cage's iconic piece by Softday
October lunchtime talks and lectures  1.15pm
Bourn Vincent Gallery
These lectures will focus on the University's natural environment
Irish Seed Savers Mushroom foraging course competition winners announced
University of Limerick campus
SoULArtsFest
Series of events celebrating the activities of UL Wolves Societies
OUR HOUSE competition winners announced
Full programme details available on Soul Arts Fest facebook page
Bourn Vincent Gallery
GAZE
A selection of artist's films including works from the National Self Portrait Collection of Ireland
Full programme and competition details available at university of limerick arts office facebook page and www.ul.ie/visualarts
cULture@UL is curated by University of Limerick Arts Office and University of Limerick Visual Arts Office
For further information on the programme for semester 1 contact ularts.office@ul.ie or visit our Facebook page.