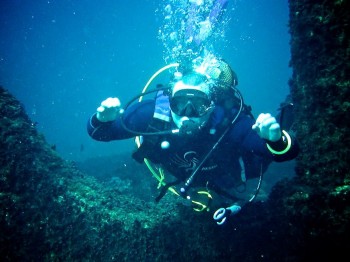 Rose Barrett
THE 2011/12 academic year has been a busy one for ULSAC.  The move from ScotSac to CFT (The Irish Underwater council) has kept the club busy.  There has been much work involved in the move but it has meant that the club has now access to more local knowledge, diving with other CFT affiliated clubs in the region and support from the organisation as a whole.  Thanks must go to all involved in the crossover.
The club had a mix of new and cross over divers join this year, along with existing members renewing their membership.  This has meant that there has been a varied mix of qualifications being attained by ULSAC members and instructors this year.  The next mile stone for a large proportion of the members will be the Club Diver qualification; equivalent to PADI's advanced open water.  Divers at this level can then dive to 30 meters.
ULSAC has been diving many different dive spots this year ranging from the old and familiar, such as Killary, Co. Galway and Portroe dive centre, Co. Tipperary and a new spot that packed a lot of punch, Lanzarote, Canary Islands.  Spots such as Portroe offers accessible diving for all levels and is ideally suited to training; particularly for trainees.  The trip to Lanzarote offered diving in ideal temperatures and conditions at a time of year when diving isn't possible in Ireland.  There were over 120 hours of diving completed by the club during the trip and many divers progressed their training.  The club will be travelling to the Aran Islands over the Easter break taking 10 divers of all levels.
There is more to the club than just diving in.  A club weekend was organised early in March with a trip on Lough Derg on Saturday in ULSACs' own RHIB, The Plassey Bird and paintballing on the Sunday.  There were a series of first aid courses run over the winter fundraising for the club and offering students and staff reasonably priced training.  The club was represented at CFT's annual Dive Ireland Dive Show getting an opportunity to meet up with CFT members from all over the country and have ULSAC officially recognised as a CFT club.  Some members were involved in the search for the missing fishermen in Union Hall in January of this year.
The club has much more happening over the coming months of the summer.  ULSAC will help in the annual UL Bar Boot Sale in Aid of Concerns work in Haiti.  Trips to the Red Sea and around various dive sites in Ireland are currently being organised and as dive times are clocked up many members will move on in their training and complete exams for diving qualifications.  The summer of 2012 promises much for ULSAC.