University of Limerick lose out on a historic Collingwood Cup victory over University College Cork at Market's Field.
University College Cork 2
University of Limerick 1
The University of Limerick Soccer team came agonisingly close to a historic Rustlers Collingwood Cup victory this afternoon in a 2-1 defeat to UCC.
The Limerick side had home county advantage in the Cup Final decider with Markets Field the venue.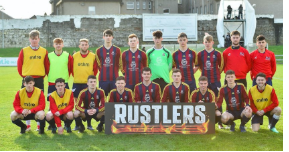 It was all UCC in the opening 30 minutes of the first half with Matthew McKevitt being denied a goal in a one on one with Limerick Keeper Sean McCormack on 26 minutes and Dan Crowley finding the woodwork not long after.
But it was UL who drew first blood, after Alan Murphy got on the end of a long throw-in to get his side ahead.
UL were 1-0 up at the break.
The second half began in quiet fashion with neither side able to find the net.
After 85 minutes of play you'd be forgiven for thinking UL had one hand on the trophy however, UCC's Simon Falvey flicked Crowley's cross into the goal and took us all into extra time in dramatic fashion.
The despair didn't end there for UL; On 92 minutes Robert Slevin headed one home from a corner to put UCC into the lead in extra time, a third Collingwood Cup in five years for the Cork College.
UL: Sean McCormack, Shane McCallion, Ryan Doherty, Ian Fletcher, Jack Lynch, Dylan Sheehan, Killian Hayes, Edmond O'Dwyer, Adam Foley, Sean McSweeney, Alan Murphy.
Subs: Donal O'Connell, Martin Madden, Illiah Coerchan, Sean McNamara, Sean Madigan, Andy Quaide.
UCC: David Coffey, Gordon Walker, Ben McAuliffe, Ethan Hurley, Robert Slevin, Garan Manley, Dylan Scott, Ronan Hennessy, Simon Falvey, Patrick Crowley, Matthew McKevitt
Subs: John Buttimer, Thomas O'Donovan, Darren Mannix, Brian Mulcahy, Liam Cronin, Conor Fitzgerald, Cathal O'Hanlon.