The Grove
11 Cecil Street
A vegetarian kitchen located on Cecil Street. A firm stable in Limerick, they have been serving vegetarian and vegan main courses, salads and desserts for 30 years. Unlike the laid back yet formal setting of the Old Fire Station, (reviewed last week) the Grove is much more quaint and homely, with an attractive deli front rather than sit down table service. Customers are free to peruse the menu or simply ask the counter staff what is available.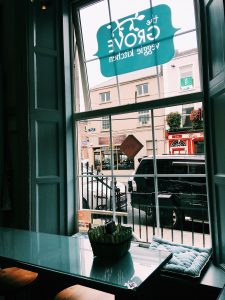 Aimee / Cheese and Spinach Pie with mushroom & chickpea salads (€10)
The thing that initially struck me about this eatery was its size… it is tiny! For the size of the floor, they have managed to squeeze a good seven tables into the shopfront, with easily stored stools allowing for extra bottoms. After sitting for a moment and deciding on our meals, we went up to the counter to place our order. When the food came down, we both agreed it smelled delicious.
I opted for a cheese and Spinach pie, one of the available main dishes – and added two side salads to my order. The shop features a large cold conter and the sides available were quite varied. I went with 'chickpea' and 'mushroom' – simple names for what were actually quite complex dishes. The mushroom salad was particularly interesting, featuring nuts, cabbage, and soy sauce.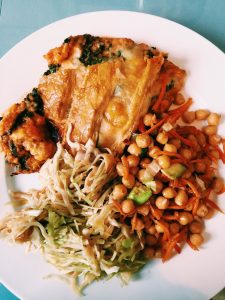 As for the pie itself, it was very rich and hearty. Which isn't a bad thing, but its resemblance to a lasagne or cheesy bake left me feeling like i'd something more naughty than nice. Though, it was warm and comforting, a home cooked lunch in the middle of a busy city.
Nicole / Lentil curry with couscous (€8.50)
I wanted something warm and hearty and my meal definitely delivered. It's a simple dish but it was flavoursome with just the right amount of spice. They popped some salad leaves and cucumber on top which made me feel like I was getting some greens in to! The presentation was nice too (which can be hard with something like lentil curry!) Though the meal did fill me, it was definitely a smaller portion than you'd get elsewhere, so some may not feel it wasn't as good value for money.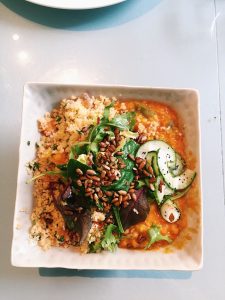 Myself and Aimee didn't feel it was as welcoming an environment for a sit-down lunch as other places. We felt a bit of a rushed vibe, even though we came before the mad lunch hour. A few weeks previously we attempted to come here and there was a queue out the door. So, I wouldn't meet a friend for lunch here if I wanted to have a long lunch, relax and chat etc. I would however return here if I wanted to grab a quick healthy lunch and eat it back at work. If I were to go again I'd also love to try some of their vegan desserts!
Final Thoughts
The Grove offer warm and comforting food that is sure to leave you feeling satisfied. The eatery is a nice space with benches and cute little cushions but towards the end of our meal, the kitchen became increasingly busy and due to its lack of space, it's hard to get away from the rush! It would be hard to imagine having a comfortable sit down meal during the lunch rush, so instead we would recommend that you enjoy a meal to go.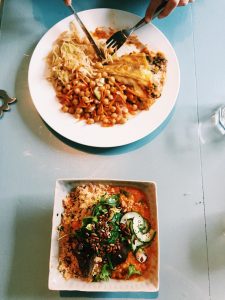 The Grove is a great alternative to an unhealthy deli with a range of healthy veggie food available and it's meal deal for a main course with two salads encourages you to pack in the greens and beans and other good stuff!