By: Siadbh Redmond
The rise of interest in women sports in the past few years has increased tenfold, but why?
As a society bombarded with match reports, TV coverage, and upcoming fixtures of Men's sports, how has the smaller, less promoted games played by women been able to compete for attention.
2018 can be thought Irelands most successful year to date across results, broad participation and most of all, attendances at significant events.
The monumental year can be best summed up by the Irish hockey team, who, if you were living under a rock, became the first-ever Irish team to reach a World Cup final.
If you consider how the country virtually shut down when Ireland made it to the quarter-finals of the male football World Cup in 1990, but Ireland's hockey's women achievements went relatively under the radar, a gap is apparent.
This was to be followed by Katie Taylor maintained her IBF and WBA world titles, Sanita Puspure returned with gold from the World Rowing Championships, and Ellen Keane won gold and bronze at the Para-Swimming European Championships.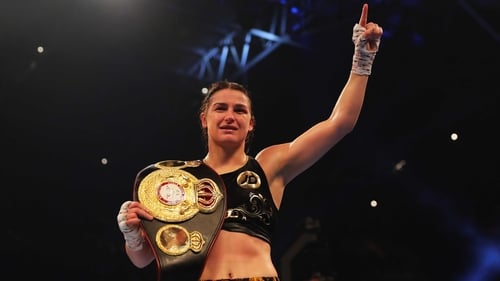 An impossible year to follow up it may seem, but for Irish women sports both on a domestic and international level, it was only a stepping stone in an ever-increasing enthusiasm surrounding the world of women sports.
The women All-Ireland Gaelic football final was played last weekend in Croke Park, with a record attendance watching the game.
A total of over 56,000 people turned up to watch the final between the now 3 in a row winners Dublin and Galway, an increase of more than 6000 people from the previous year.
An exciting time in Ladies Gaelic football as the interest has rapidly increased year after year at the All-Ireland Final.
As Gaelic football is an interregnal part of Irish culture and is rooted in a deep history here, the emergence of Women's GAA is a relatively new concept, only founded in 1974.
The Ladies Gaelic association continue to break records with attendance at national games, local derbies and the overflowing registration of young underage players that have joined the hundreds of clubs up and down the country.
Not only has the interest in Gaelic football increased, there has also been a renewed passion for Women's football.
A staggering 7.6 million people in the UK watched the English Woman's football team during their campaign in the FIFA Female World Cup.
In America, 14.3 million people watched America triumph against The Netherlands, an increase on the 2018 male World Cup final when 11 million saw France win over Croatia.
This UK figures are nothing to be sniffed at; the exploits of the men's team drew just shy of 20 million viewers last summer in the UK.
It would have been unthinkable even a decade ago that this amount of people would have so much interest in a woman soccer team.
In Ireland, a peak audience of 315,000 people tuned in to watch the match between World Cup and Olympic winners USA and England.
It brings around the question of why the men's teams get paid more when a more captive game was being played by women.
Take Lyon's womens football team as an example.
They have not lost a competitive team in all competitions in all competitions since April 2017.
If Lionel Messi's Barcelona or Limerick's male hurling team managed a feat like that, they would instantly go down in sporting history and remembered in the history books for years to come
Following the tournament, companies that sponsored the competition also increased their cash input, as they too understand that more people are interested in the sport.
FIFA recently announced to expand the next Female World Cup from 32 teams to 48 teams, and increase the prize money for winners based on this summer's success.
From their increase in sponsorship and ads, their products will reach the broad audience that tuned into the games.
This increase in revenue towards the women games has evoked a strive for a balance between the genders.
The fascination with not only watching women sports but also playing them has also increased in numbers.
The number of women that participate in Rugby has also sky-rocketed.
This, helped by Irish Rugby's initiative 'Give it a Try", which is run by clubs up and down the country each summer.
This promotion of Women's Rugby, which is usually a male-dominated sport has helped to break the stigma the only mean can play this sport.
More programmes like this one should be made available to the younger generation of girls who, like many look up to the hundreds of women that appear on county teams, national teams and on international stages.
The adversity, lack of funding and complications faced by women in their chosen disciplines can be taken in two ways, for the comments and shortage of hope to stop them from competing, or for the challenges to act as a milestone to overcome.
This past week a woman named Sarah Thomas became the first person to swim the English Channel from the south of England to the North of France, four times over non-stop.
This incredible swim, which lasted 54 hours, was even more special as Sarah is a cancer survivor. For her, a woman who recovered from one of the worlds most deadly diseases to being able to swim an 84-mile swim.
This is only one of thousands of inspiring feats reached by a woman, which can provoke a connection with millions of people globally.
There are hundreds of sports available to women of every age around the country.
The constant promotion and inclusion of these sports on national TV, radio, and newspapers helps to retain the interest in them.
It allows people to actively gain an interest in them, regardless of any connections they might already have to the sport.
Some people are in skeptics of the support and drive behind the women sports in this country.
.This surprise is balanced by the improved media coverage received by many women sports since the golden year of 2018.
What I believe is next for ladies sports is an overall appreciation for the talent being shown by the athletes, who get only half of the recognition of their male counterparts.
Women sports of all disciplines are on the rise, and with the current rate of interest, they will be able to counteract the number of men's sports publicised with the same amount of women sports.
The equivalent time, effort, and money is invested in women sports with the hope that it will overtime receive the same benefits and appreciation as the male sports do.