So far, this year has been a great one for the lads and ladies of UL Racing and Motorsport.
From our first international trip, to our participation in Inter varsities, to increased membership, the society has gone from strength to strength.
This academic year has been a great one for us here in ULRM. We kicked off the year with a fantastic turn out and sign up at the Semester 1 Recruitment Drive. Interest was certainly peaked at the Rec Drive, with our Forza competition and a display from our friends at NKC. New members were eager to get involved and it wasn't long before we had our first 2 planned events for the semester completely sold out.
At our EGM, we had great interest from our fresh-faced first years in joining the committee and helping to contribute towards the running of the society. We introduced shadow positions to help inexperienced first years learn the ropes from some of our more seasoned members. This has proved to be a great success and we saw some of our newest members excel greatly because of this.
We held an endurance race to start of the year's shenanigans. This event drew a sell-out crowd of 50 people. We were delighted to see we had a vibrant mix of both Irish and International students and a wide variety of ages. Throughout the semester, we held drift karting and also took a few of our members to Pallas Karting in Tynagh, Co. Galway as a trial for spots on the team for the upcoming inter varsities round. This outing helped to identify a lot of new talent in our society and also helped us to bond, forming new friendships and friendly rivalries.
ULRM was represented in all 4 rounds of this year's SSI Karting Intervarsity's League which took place in Nutt's Corner in Belfast, Whiteriver in Louth, Watergrasshill in Cork and Tynagh in Co. Galway. In all four rounds, our drivers, led by Jason Buckley, did well and came away with great standings but unfortunately we were pipped to the post and missed out on any podium appearances. The newest member of our team, Wolfie, made an appearance for a few of our races and was a great hit with the hosting tracks and the other teams.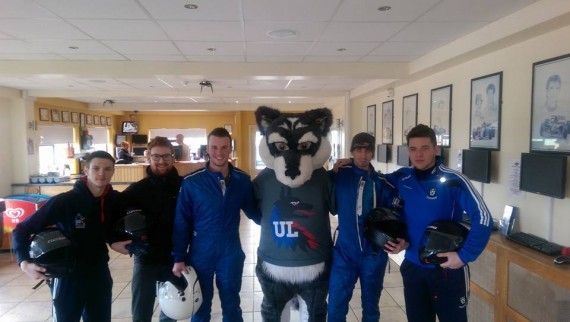 As well as our regular karting events, we had a great night out at a 90's Roller Disco when we collaborated with Roller Jam in Ballysimon. Our members showed their willingness to try new things while enjoying the nostalgia with cheesy 90's music as well as bringing out their competitive sides too.
We also held a fantastic raffle during the semester with fantastic prizes being donated by the very generous businesses of Limerick. Some of these prizes included a racing helmet donated by the lovely lads over at NKC, a hamper of goodies from Mr. Duffy's Sweet Shop and tickets to Roller Jam from our friends over there.
Besides the events we ran here in Limerick, many of our members got to attend many other motorsport events, including the Cork 20 and Galway Rallies, Mondello events and motorbike shows which were attended by legends such as Michael Dunlop.
Semester 2 started off just as well as Semester 1 had, with incredible interest at the Recruitment Drive and another sell out event to start off the semester. This semester saw the return of some familiar faces as well as increased participation and interest from newer members.
Throughout the year, we have had great support and sponsorship from the generous folks at Red Bull, who have supplied us with donations of Red Bull for our events and for our teams competing at IVs. This contribution has been greatly appreciated from all here at ULRM.
This year, we have seen an obvious improvement in member numbers and participation. This, along with all the hard work and dedication of our committee and the awesome events we have run over the last year, has been instrumental in our nomination for Best New and Improved Society. We would like to thank all involved who made this society good enough to be nominated and shortlisted for this award.
With the year quickly drawing to a close, we look forward to handing the reins to the next committee and doing as much as we can to set them up for another fantastic year next year and helping our society.
By Chloe Fallon