Pictured: University of Limerick's Joanne Cregg and Elaine Fitzpatrick celebrate. Photo: Eóin Noonan/Sportsfile
March 9th, 2019 saw one of the best games of Football played all year in the O'Connor Cup Final between UL and UCD. Goals from Fiona McHale and Hannah O'Donogue saw UL power to a 2-16 to 1-10 win over their rivals at Grangegorman, claiming a 12th O'Connor Cup title in their history.
One key member of that team was Joanne Cregg. Now in her third year at UL, the Graduate Medicine student found herself in a special club of being the sole Roscommon representative in this year's College Football Championship winning team:
"It's pretty incredible; I love it. I am very proud to be from Roscommon and to represent Roscommon in the O'Connor Cup. I love to see people in my county doing well."
"We play intermediate Football; I never get the opportunity to play alongside these girls like Eimear Scally of Cork and Fiona McHale of Mayo, that just doesn't happen." To be able to play alongside those girls of that caliber and against the Dublin girls of UCD is such an incredible competition. Lucky is the only word I can describe myself right now; I am so so lucky to be a part of it."
Prior to lifting the 2019 O'Connor Cup, the UL Ladies Footballers along with Cregg lost both the League and O'Connor Cup finals in 2018, and another League final defeat to UCD saw them lose their third successive final last semester. The recent silverware was a much-awaited prize:
"We lost out to an incredibly strong UCD side in the League final who set the bar a whole other level of high, and that's where we had to go. So come January time we sat down and had our Player meetings, re-evaluate what we wanted and what we were going to do to get there."
"It was more sense of relief I think, I mean you put so much work in all year long it's not just the semester. It's been a two-year build up to this win. You work so hard and sacrifice so much to win, six nights realistically."
"You are sacrificing nights out, you're planning your meals all around it, and your whole life becomes "How am I gonna win O'Connor Cup."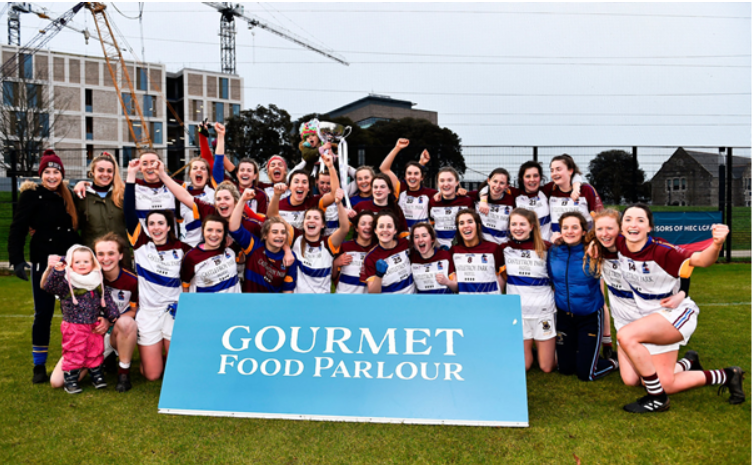 Cregg is all too aware of the preparation and balance required to succeed at both top-level Sport and College, but only relishes it, and views both as the perfect combination:
"It's tough balancing both. Obviously it's a massive workload studying Medicine, but they complement each other so well."
"I knew I needed to do both, you become a Medical student but you also become a UL Ladies Footballer, and I don't think I could do one without the other."
"This year I'm on placement all year round, I had 18 weeks of placement in the first semester and 18 weeks in the second, so my year is quite long. So having Football there in the middle is just so so important for me and it makes me who I am."
"I wouldn't beat around the bush and say it's easy, that's not true, it is hard, but I would never let one interfere with the other."
"As a Ladies Gaelic Footballer or Sportsperson in general, you have to be very organised and efficient with your time, and I think I am quite good at that, I know what needs to be done."
Before Cregg starting in UL, she spent four years at NUI Galway studying an undergraduate degree in Science. The idea of playing on a UL panel full of County stars and working with Manager DJ Collins confirmed her next move:
"I really enjoyed playing for NUI Galway, but we only got to the O'Connor Cup weekend once in my four years there where we lost out to a very strong UL team in the semi-final. They hammered us off the pitch."
"So when I was deciding to do Medicine the options were UCD, UCC, and UL. I always knew that UL were doing so well that last couple of years and it just felt like me; I wouldn't see myself playing up in Dublin being so far away from home. UL is just more of a family setting, a love for the sport and a love for all sports in general and of course, the campus is phenomenal in general."
"DJ is what UL GAA should represent; he is the essence of the UL Ladies Football team. You want to be surrounded by people who want to be the best and to have that in a manager is so important."
Cregg is a big supporter of the 20×20 Women in Sport campaign, which has been calling on the people of Ireland and all those involved in Irish sport and physical activity to get behind female sport in a concerted effort to increase media coverage, boost attendances and ultimately, grow involvement in female sport and physical activity by 20% by the end of 2020.
"The 20×20 campaign is massive at the moment; I feel so lucky at this time to be playing Ladies Football at this time where ladies football and Women is Sport is changing so much."
"To have the coverage right now and for me to be going home the weekend and coaching my Under 14 team and showing them Football clips and telling them that can be you, that this is the future, that you are the future of Women in Sport is incredible, and I am so lucky."
"When I go onto to Twitter now my whole feed is Ladies Football, you crave, and all you want is it for to be Gaelic Football and not always stress, and for you to be talking to someone and for them not to roll their eyes and joke and say "ah sure that's only Ladies Football". Because even though they are only joking and you know that, if that was said in front of my Under 14 girls they wouldn't realise that because you want the best for them growing up because they are the future."
"All I do is crave for the day that equality is a given and is not asked for."
Tune into "Beyond The Game" on ULFM every Thursday from 2-3pm for the latest Sports news, views, and updates.