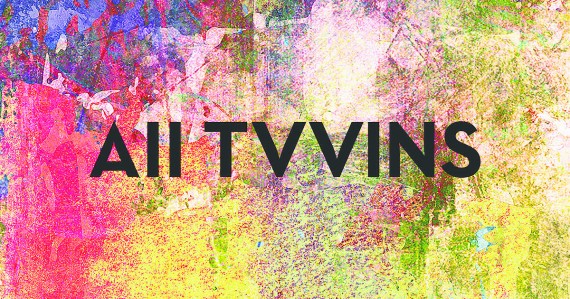 By Eilís Walsh
This is a two piece band consisting of Lar Kaye and Conor Adams and the band itself is based in Dublin. As for their genre it is hard to describe. They are a mixture of synth pop, rock, indie and electronic.
I'll take you through the sound of All Tvvins song by song. The first tune I ever heard of theirs was "Thank You". I connected with it on a personal level. The first sound you hear is guitar, sounding like vintage synthesizers. Then immediately comes in foot tapping drums and some bass. The lyrics, I am guessing describing the after effects of a breakup. "Thank You" is best played out loud and the tone of the song is almost angry at the beginning. Conor Adams sings "And now my love is gone, where should I go? And now my love is wrong, I know, I know". This song is anthem like if played aloud.
"Too Young to Live" was the next song released and it's a groovy song in my opinion. It's slower than Thank You but no less catchy. The guitars are largely layered by effects yet there's still a detectable 80's sound that is synonymous with All Tvvins, yet is modern too.  "Too young to live, too old to die. Too young to give, too old to try". There's a funky bass riff throughout the song, and towards the end of the song the synthesizers are amped up on the guitar, making for again, an anthem.
The next tune is "Darkest Ocean" and this would be my favourite All Tvvins song, for its catchy and pulsating drum beat. Within seconds of the song beginning you hear loud synths which I find very easy to dance to. It's also a festival worthy tune and is instantly recognisable as All Tvvin's signature sound. My own dance moves to this song are deplorable but fit in with the changes in synth and drum beat. When played in an intimate setting the song fills the room. "Do yourself a f**king favour. Build yourself a boat. Hold your breath and reach the top, I know that you'll float."
Finally, their latest single "Unbelievable" is slightly different than the first three songs. All Tvvins are clearly going all out for this song, everything is big and loud, from the guitars, synths and drum beats. It's really energetic, particularly the bouncy, infectious drum beats during the chorus. The vocals are synthesized but not as much as the previous few songs in my opinion.
"It's unbelievable, that we're here at all. It's a miracle, what the body does, what the body knows".
Electro pop song Resurrect Me isn't as well known as the first four songs but I love it. Most All Tvvin's songs start with synthesized guitar and an infectious drum beat.  "If you could, I know you would, I know you would, resurrect me".
Other songs such as The Fix and Desperate Soul are tunes to listen out for, complete with vocals coated in sound effects, loud drum beats and synths. For me All Tvvin's are unique in what they're doing and I am highly anticipating the music they bring out in the future.