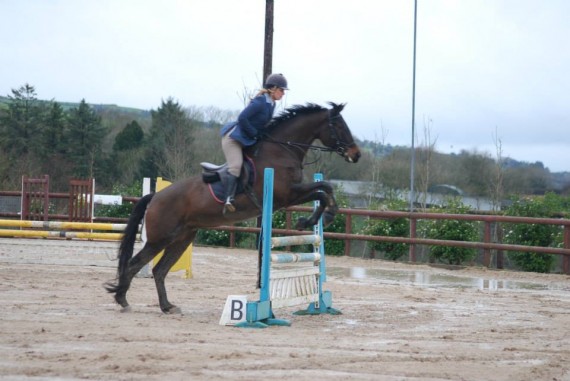 20 members of the UL equestrian travelled to Corkfor the National Equestrian Intervarsities hosted by UCC and CIT from the 20th-23rd of February.
3 Showjumping teams, 1 dressage team, a Prix caprilli team and a number of individual riders were selected as part of the 17 person squad.
Saturday Morning saw the beginning of the competition and nearly 300 students from colleges across Ireland were in attendance.
7 riders from UL went on to second round Showjumping, more than any other College. Our dressage riders were in great form with 2 out of 3 riders making it to the second round. As the day progressed many riders were knocked out including some of the favourites.
Results are not released until Sunday night so tension and speculation began to rise. Show jumping was announced first where UL took 2nd place with a team of talented first years: Amy Maloney, Kirsten McCormack and Laura Conners. 5th place in the Team section went to last year's Team Show jumping Winners of Paul McDermott, Aoife Leonard and Kate Costello. Ian Foster (final year Civil eng student) took 3rd place overall.
As the teams were called out for Dressage we began to worry. With a very strong UCD dressage team in the competition we thought they were our biggest rivals. We were delighted to be announced as the Winners of Team Dressage with the team of Brigitte Murphy, Shannon Pratt and Susan Hayes.
It all came down to the Prix caprilli results. 3rd place from the team of Amy Doran, Killian Costello and Cliodhna McLoughlin was enough for UL to be crowned Overall Intervarsity Champions!!
UL Equestrian club had an amazing year, hosting Tetrathlon Intervarsities in November. On top of the organisation of the event UL also came out with an overall win. Brigitte Murphy won the overall girls section and Luke Sutherland was 2nd in the boys section followed closely by Patrick Duggan who represented Ireland at a Tetrathlon competition in Australia also.
Last year was fantastic for the UL Equestrian club with a number of individual performances also. Paul McDermott was selected for the World Equestrian Student Championships and Emily McDonagh was selected for the World Championships in Polo cross.
We hope for continued success in the future.
By Christina Foley