"I don't think it is just good to stop people going

down wrong paths; it is beneficial in every aspect

of life.  As a society I don't feel we truly value the

impact that physical activity and sport can have on

person's life."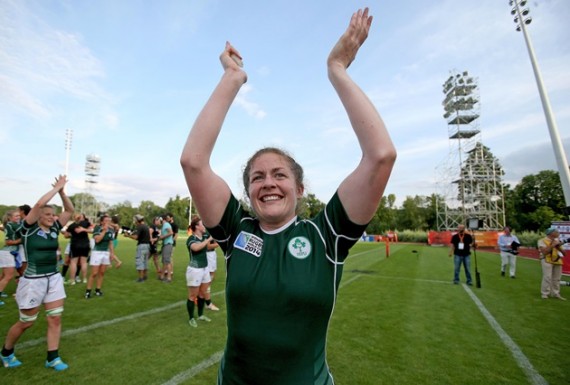 Fiona Coghlan is a former student of P.E. and Maths teaching at the University of Limerick. She was "sceptical" when first moving down from Dublin to Limerick, reluctant to leave her home county. Speaking about her decision to choose UL she said, "it was a choice that has changed my entire life for the better and has afforded me such amazing opportunities." On her first week in the college she decided to sign up for women's rugby and the rest is history.
Fiona retired from rugby in 2014 after she led the Irish Rugby Women's team to fourth place in the Rugby World Cup, beating New Zealand on the way. The previous year she proudly lifted the Six Nations trophy. Fiona credits her successful career in rugby to where it all started, in UL. "If I didn't go to college in UL, I probably wouldn't be playing rugby."
The P.E. and Maths teacher was not afraid to get stuck into sport in the college and got her first taste of victory in rugby as a result. "I was lucky to get involved in the GAA and Rugby club where you have an immediate support network around you.  I was lucky enough to win four Intervarsity and League titles with the College team."
While Fiona was still studying in UL, her profile in women's rugby was growing and developing. She catapulted onto the international stage. She needed help and support from the college in order to balance the hectic life between studies and the pressures and demands of rugby. "My international career escalated fairly quickly and the college were really helpful when I needed to miss some lectures for Six Nations and European games".
The former Irish captain can't stress enough how important sport is in the lives of young people, not just as a method of escapism, but valuable in all aspects of life. "I don't think it is just good to stop people going down wrong paths; it is beneficial in every aspect of life.  As a society I don't feel we truly value the impact that physical activity and sport can have on person's life." She is a firm believer that there is no excuses for any young person to not get out and active, with the wide variety of choices available. "I would encourage young people to go out and try as many sports as they can and find what is for them. I believe there is a sport out there for anyone. Don't use excuses, get involved."
While Fiona is supremely proud of what she achieved on the international stage, the way in which the women's team exited from the World Cup still torments her. Ireland topped Group B beating Kazakhstan, United States and that famous victory over New Zealand. However, in the semi-final Ireland fell to a crushing 40-7 defeat at the hands of England. "The manner in which we performed (or didn't) in that semi, will still haunt me."
The Irish women's team were, and still are, prolific in highlighting women's sport in this country and it is something Fiona takes great pride from. "I'm really thankful to have been involved in a wonderful journey with great people that has seen the women's game come from nowhere to now be in the public eye.  To now see young girls playing the game is really inspiring."
She may have retired but Fiona is far from relaxing. Between her commitments to work and her enthusiasm for sport, she is kept busy. "I was straight back into work when we got back from the World Cup.  I was trying to get out to as many clubs and schools at the beginning of the season to try and encourage more people to take up the game at the start of the season." Having always had a desire to give back to the game of rugby and develop as a coach, Fiona has now had to put that idea on the backfoot for practicality reasons. "The amount of time required for coaching is probably more than playing, so at the moment, it probably isn't feasible but it is definitely an option."
 With the news that the IRFU have made a bid for the 2017 Women's World Cup, Fiona is excited and believes that Ireland can be successful in their bid. "It is really exciting and I have no doubt the bid that is put forward by the IRFU will be very appealing. To bring the WRWC 2017 to Ireland would continue to drive the game here but also globally." She also highlighted the benefits for the Irish fans and for the tourism to the country. "The Irish public will be supportive of such a tournament and embrace the tourists that travel to be a part of it."
By Marisa Kennedy